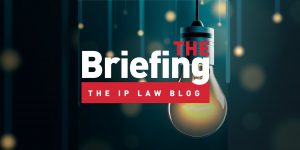 Popular food chains Chipotle and Sweetgreen settled a trademark dispute relating to Sweetgreen's use of 'CHIPOTLE' on its menu. Scott Hervey and Josh Escovedo talk about this dispute on this episode of The Briefing by the IP Law Blog.
Watch this episode on the Weintraub YouTube channel here.
Show Notes:
Scott:
I'm Scott Hervey with Weintraub Tobin.
Josh:
And I'm Josh Escovedo with Weintraub Tobin. Over the course of a few days, Chipotle and Sweetgreen engaged in a trademark skirmish concerning the CHIPOTLE mark and settled the matter just a few days later. That what we'll be discussing on this installment of The Briefing by the IP Law Blog.
Josh:
Today we're going to discuss a recent legal dispute between two fast-casual restaurant chains, Chipotle and Sweetgreen. In short, Chipotle filed a lawsuit in California federal court against Sweetgreen, accusing the rival chain of infringing its trademark by selling a "Chipotle Chicken Burrito Bowl" that Chipotle claims is directly competing with Chipotle's own menu item.
Scott:
That's a bold move by Chipotle. What exactly are their claims?
Josh:
Chipotle alleges that Sweetgreen has been infringing its well-known Chipotle trademark since March 30 by selling a menu item with very similar ingredients to Chipotle's own popular burrito bowl and incorporating the CHIPOTLE mark into the name of the item. By now, you may be wondering, how exactly is Sweetgreen infringing on Chipotle's trademark?
Scott:
Well, according to the complaint, Sweetgreen's menu item is listed with a capitalized "Chipotle" or sometimes in all caps on its website and in its social media posts on Instagram or Twitter. In addition, some ads for the allegedly infringing item utilize a font or background color which Chipotle claims is eerily similar to Chipotle's font and background color.
Josh:
So basically, Chipotle is claiming that Sweetgreen is trying to create confusion among customers by falsely creating an impression that its product is somehow sponsored or authorized by Chipotle. At the very least, Chipotle is claiming that Sweetgreen has inadvertently created a situation that is likely to create consumer confusion.
Scott:
That's right. Chipotle says that Sweetgreen's actions are likely to cause confusion among customers, and that Sweetgreen is wrongfully profiting from and trading off of Chipotle's valuable goodwill and reputation.
Josh:
I see. So, what was Chipotle seeking through this lawsuit?
Scott:
Well, Chipotle alleged three Lanham Act violations along with a claim under California's Unfair Competition Law and sought injunctive relief and treble damages, according to the complaint.
Josh:
Those are some serious allegations. But there's been a recent development in this case, hasn't there?
Scott:
Yes, just days after Chipotle filed the lawsuit, Sweetgreen agreed to change the name of its new "Chipotle Chicken Burrito Bowl" to "Chicken + Chipotle Pepper Bowl" as part of a tentative agreement between the two companies to resolve the suit.
Josh:
That's interesting. This really underscores the perils of adopting a mark in the restaurant industry that is also a popular ingredient. Here, it seems to have worked out for Chipotle through a quick resolution. I do question however how this would have played out if it had been litigated. I'm not confident Chipotle would have walked away victorious. What do both parties have to say about the resolution, Scott?
Scott:
According to statements provided to multiple news outlets, Sweetgreen says it made the change "to focus on business and continue serving our guests without distraction," and Chipotle says it is "pleased that Sweetgreen has chosen to amend their materials in a manner that protects our trademarks and intellectual property."
Josh:
So, it seems like both companies are satisfied with this resolution.
Scott:
At least to some extent. Now both parties can move forward with their business without the distraction and expense of litigation. I'm also willing to bet that Sweetgreen isn't going to sell fewer bowls as a result of the name change.
Josh:
Absolutely. Litigating this issue would have been a pure matter of principle with little to gain at the end.
Scott:
I agree, Josh. Thanks for sharing.
Podcast: Play in new window | Download