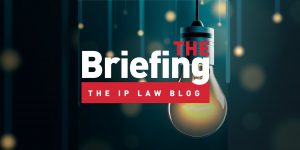 Journalist Bob Woodward asked the court to dismiss former President Trump's copyright infringement claim regarding Woodward's audio book "The Trump Tapes," which consists of 20 raw audio interviews with Trump. Scott Hervey and Josh Escovedo talk about this case on this episode of The Briefing by the IP Law Blog.
Watch this episode on the Weintraub YouTube channel here.
Cases Discussed:
Trump v. Woodward
Taggart v. WMAQ Channel 5 Chicago
Show Notes:
Scott:
Veteran investigative reporter Bob Woodward conducted an audio interview of former president Donald Trump for Woodward's book, Rage. Woodward later released these recordings as a separate audiobook, and Trump claimed that Woodward did not have his permission to release these audiotapes as a separate audiobook and sued Woodard and his publisher for, among other claims, copyright infringement. Woodward filed a motion to dismiss, arguing that Trump's complaint is without legal merit. We are going to talk about this.
Scott:
These are the facts according to Trump's complaint against Woodward and his publisher, Simon and Schuster. Woodward sought and obtained President Trump's consent to be recorded for a series of interviews with President Trump. Woodward interviewed Trump, both in person and over the phone, on numerous occasions during 2019, mostly during his term as president. Trump contends that he did not give permission for the recordings to be released as audio recordings and claims that he owns the copyright in the entire sound recording or at least Trump's response to the interview questions.
Josh:
We previously covered this when Trump initially filed his complaint, and we questioned the merits of his copyright claim. Did Woodward's motion to dismiss track our analysis?
Scott:
Woodward did raise one of the same as us – that Trump lacks any copyright ownership in the answers to interview questions. His motion even cites Taggart v. WMAQ Channel 5 Chicago, which we noted in our story. In that case, a Chicago television station videotaped a prison interview with a convicted sex offender in connection with a report on the lax regulation of summer camps. Taggart alleged that he had requested that the tape not be used in any manner, and when WMAQ broadcast an excerpt, he sued for copyright infringement and other claims. In ruling on the station's motion to dismiss, the court held that Taggart did not have a copyright interest in unprepared and spontaneous utterances during an interview and dismissed his copyright claim. The basis of this finding is the Copyright Act's lack of protection for ideas. While courts have recognized common law protection for the spoken word, according to the Taggart holding, courts have not and cannot recognize a proprietary interest where there is no tangible embodiment of the expression of an idea
Josh:
To qualify as an author under the Copyright Act, one must supply more than mere direction or ideas. According to the Supreme Court in Community for Creative Non-Violence v Reid, "an author is the party who actually creates the work, that is, the person who translates an idea into a fixed, tangible expression entitled to copyright protection."
Scott:
And based on that, the court found the responses given by Taggart "are not an expression of an idea for the purpose of copyright law." On a more practical level, the judge noted that the granting of protection for the answers to questions "gathered in the daily task of the news reporter would essentially bring the industry to a halt."
Josh:
Woodward raises a few additional grounds in his motion to dismiss. One other ground is that Trump has failed to register a copyright in the work alleged to be infringed prior to filing suit. Section 411(a) of the Copyright Act says, "no civil action for infringement of the copyright in any United States work shall be instituted until preregistration or registration of the copyright claim has been made in accordance with this title." Woodward contends that couching claims as "Declaratory Relief Regarding Ownership of Copyrights" and "Accounting" under "the Copyright Laws of the United States does not get Trump out from under the registration requirement.
Scott:
That's right. I don't know how challenging this issue will be to overcome. One additional challenge to Trump's copyright ownership is that his responses are government works. Section 105 of the Copyright Act provides .that "copyright protection…is not available for any work of the United States Government," which is defined as any "work prepared by an officer or employee of the United States Government as part of that person's official duties"  Trump, as president, was an employee of the federal government and Woodward contends that speaking with reporters is clearly conduct 'of the kind [a President] is employed to perform.'"
Josh:
Here, the Interviews all occurred when Trump was in office, and Woodward alleges were clearly "part of his official duties." Woodward contends that allowing federal employees to own a copyright interest in their portion of an interview would give President Trump and other public officials interviewed by the press the right to sue over any critical or unwelcome use of their statements. Since copyright equates to legal control over expression and requires journalists to negotiate authorship rights away from interviewees, particularly public officials, would invite contractual censorship of criticism and chill open discourse.
Scott:
Woodward also contends that the use of Trump's responses, to the extent Trump does have a copyright interest in the recordings, the use constitutes fair use in that it is news reporting. Woodward cites to a Second Circuit case that held that Bloomberg's unauthorized publication of an entire recorded earnings telephone call led by Swatch executives was fair use based on the rationale that "in news reporting," the "need to convey information to the public accurately may, in some instances make it desirable and consonant with copyright law for a defendant to faithfully reproduce an original work without alteration."
Josh:
It does seem that Woodward raised some very compelling points in support of his motion to dismiss.
Scott:
I have to agree Josh; Woodward's motion does seem extremely strong. We will see what former President Trump has to say.
Podcast: Play in new window | Download