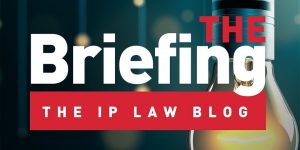 A law firm has filed a trademark infringement lawsuit against its namesake. Scott Hervey and Josh Escovedo discuss this case in this installment of The Briefing by the IP Law Blog.
Watch this episode here.
Show Notes: 
Scott:
Lewis Brisbois Bisgaard & Smith, LLP is suing Lewis Brisbois Bisgaard & Smith, LLP in a Texas federal court for trademark infringement. No, this is not law firm schizophrenia. But it is a weird case that may exemplify the strength of common law trademark rights.
Scott:
Lewis Brisbois Bisgaard & Smith is a well-regarded national law firm with 1,600 lawyers across many states, including Texas. Since 2002 Lewis Brisbois has operated under the business name Lewis Brisbois Bisgaard & Smith, and since 2009 the law firm has operated an office in Texas. The firm also owned a registered trademark for Lewis Brisbois Bisgaard & Smith, but apparently, that trademark registration went abandoned in 2020. This fact is a plot point later on in our story.
Josh:
So who is this other Lewis Brisbois Bisgaard & Smith.
Scott:
Yes, it's time for this weird twist.  Michael Bitgood and Richard JonesMay 26, 2022, Bitgood filed a registration for a domestic limited liability partnership, "Lewis Brisbois Bisgaard & Smith, LLP" in the Office of the Secretary of State of Texas. Bitgood listed the services as mediation and related services. They then filed an assumed name certificate in the Office of the Secretary of State identifying the Bitgood Entity's assumed name as "Lewis Brisbois Bisgaard & Smith."  I am sure you are asking why would Bigtood and Jones do this. Well, it seems that the law firm represented some third parties to defend an unrelated case where the plaintiffs were Bitgood and Jones. After Bitgood and Jones formed their entity, they amended the complaint and added their new entity, Lewis Brisbois Bisgaard & Smith, as a plaintiff and then added the law firm and the law firm's lawyer handling this other case as defendants.  Against the law firm and its lawyer, Bitgood, Jones and the Bitgood entity…the other Lewis Brisbois Bisgaard & Smith…allege that they are using the Bitgood Entities name in an illegal and unauthorized manner reasonably calculated to create mass confusion and damage.
Josh:
I think my head is about to explode. Let me see if I get this right.  Bitgood and Jones sued some third parties. Lewis Brisbois Bisgaard & Smith represent these third parties in the lawsuit.  Bitgood and Jones, then…I assume thinking it provides them with some type of strategic leverage in their underlying lawsuit, form an entity in Texas, Lewis Brisbois Bisgaard & Smith, LLP, they then add that entity as a plaintiff in their first lawsuit and add the law firm and lawyer as defendants claiming, essentially, trademark infringement.
Scott:
You have it correct. I am sure you are asking yourself, why would they do that?  Well, there was a clue to that in Bitgood and Jones' amended complaint. They claimed that the law firm failed to renew their filing with the Texas Secretary of State, which is why they were able to file their incorporation. This seems to be part of some plan to cause the law firm to be unable to represent the defendants in the underlying lawsuit.
Josh:
So going back to your lead-in for this story, I assume the law firm filed a trademark infringement lawsuit.
Scott:
That's right, they did.  And Bitgood and Jones filed a motion to dismiss. Apparently Bitgood and Jones thought they hit the pot of gold at the end of the rainbow when they discovered that the law firm's federal trademark registration went abandoned on July 10, 2020.  But, as you know, Josh, that's not the end of the story.
Josh:
No, it isn't. Bitgood and Jones failed to consider the common law trademark rights the law firm has in its name.
Scott:
Trademark rights stem not from the registration of a mark but from actual use in commerce. While some civil law nations follow the "first to file" rule, which grants senior rights to the first party to win the race to the trademark office, the United States follows the rule that ownership and priority go to the party who was first to use. Common law rights are defined by the scope of actual use and the geographical territory in which the mark was used. While a merchant may acquire common law trademark rights in the name of a brick-and-mortar business, that interest is limited to the geographic area in which the merchant actually does business.  As such, another merchant in another town can use the exact same name for a similar business and not infringe the common law rights of the first merchant if the first merchant does not advertise or do business in that town.
Josh:
This case raises two great takeaways as I see it.  The first is that the Lewis Brisbois federal trademark – which is a composite mark- probably should not have gone abandoned without a substitute application… preferably a plain word mark. Being filed prior. The composite mark went abandoned July 10, 2020 and the law firm did not file any new trademarks until September 29, 2022. Now maybe they had a reason for the lapse; it does seem like they have new branding on their website, so maybe this is all a case of unfortunate timing.   These are not inexperienced lawyers.   However, a good rule of thumb for all trademark owners is to make sure that all trademark renewal dates are well calendared and responded to time as there is no grace period for failing to file a renewal on time.
Scott:
The second lesson is one that Bitgood and Jones will soon learn.  Don't forget about common law trademark rights.  Sometimes clients fail to appreciate the business using a brand in one or two states that hasn't filed a federal trademark application.  Those mark owners can still sue for trademark infringement and still prevent you from adopting a confusingly similar mark, as I am sure Bitgood and Jones will come to appreciate.
Podcast: Play in new window | Download