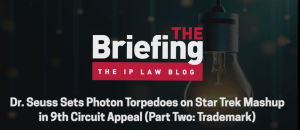 In this week's episode of The Briefing by the IP Law Blog, Scott Hervey and Josh Escovedo discuss the Ninth Circuit Ruling on the trademark aspects of Dr. Seuss "mashups."
Watch the video version of this episode on the Weintraub YouTube channel here.
To listen to part-one of this two-part series, click here.
Cases discussed:
Dr. Seuss Enterprises v. Penguin Books USA
Dr. Seuss Enterprises v. Comic Mix LLC
Mattel Inc. v. MCA Records Inc.
VIP Products LLC v. Jack Daniels Properties Inc.
Podcast: Play in new window | Download