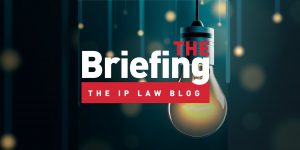 In this episode of The Briefing by the IP Law Blog, Weintraub  attorneys Scott Hervey and Josh Escovedo discuss Josh's article for the IP Law Blog, "Dogs, Whiskey, and Intellectual Property: Need I Say More?" 
Jack Daniel's Properties, Inc. has petitioned the Supreme Court of the United States for certiorari following an unfavorable ruling from the Ninth Circuit in the matter of VIP Products LLC v. Jack Daniel's Properties, Inc. In that case, VIP Products sued Jack Daniel's after receiving a cease-and-desist letter concerning its Bad Spaniels Silly Squeaker dog toy. The toy is intentionally similar to the famous Jack Daniel's Old No. 7 whiskey bottle but is clearly intended to be a joke.
Watch the episode on the Weintraub YouTube channel, here.
Read the full article here. ​
Podcast: Play in new window | Download