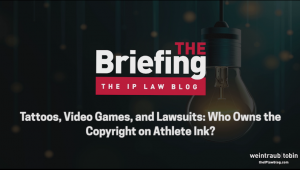 In this week's episode of The Briefing by the IP Law Blog, Scott Hervey and Josh Escovedo discuss lawsuits over identifiable tattoos on professional athletes featured in video games, and who owns the copyright to body art.
Watch the video version of this episode on the Weintraub YouTube Channel here.
Cases discussed:
Solid Oak Sketches, LLC v. 2K Games, Inc.
Alexander v. Take-Two Interactive Software, Inc.
Bill Graham Archives v. Dorling Kindersley, Ltd.
Darabont v. AMC Network Entm't, LLC
Podcast: Play in new window | Download